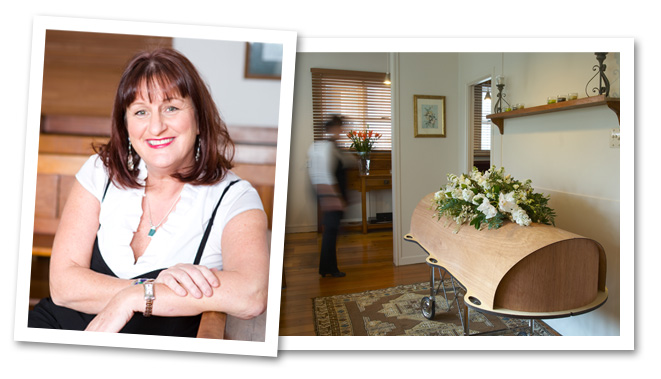 Unlike a wedding, there is no rehearsal for a funeral! There is only one opportunity to get things right. Having spent the last thirteen years as a funeral director, Martha-Louise Asmus of Manning Funerals is well aware of this. Her attention to detail ensures nothing is overlooked, and the family has no regrets.


"I will do anything to facilitate your funeral service wishes, provided it is legal and doesn't compromise the dignity of the person I am caring for".
"At Manning Funerals, we take the worry of arranging a funeral out of the family's hands. We will do as much or as little as the family would like us to. This ranges from booking a venue for the funeral service, and a celebrant or minister best suited to the family, to arranging any number of the many other details contributing to a special funeral service."
No matter how organized or prepared a family may be, all of their plans can go out the window at the time of a death. Funeral arrangements – through the sheer volume of decision making – can overwhelm anyone and for this reason, Manning Funerals advocates individuals have funeral plans in place to provide clarity about the deceased's wishes. Manning Funerals welcomes enquiries from people wishing to put in place their own funeral arrangements, or those of others.

Our services include:
Funeral Director available 24 hours a day
Your funeral director is someone who the family trust implicitly to care for the grieving family in a professional, caring and relaxed manner. This is the person who will take care of any and every detail in relation to your deceased loved one. Read more
Natural Body Care or Embalming
Embalming is a process that introduces preserving chemicals into the deceased's body to prevent natural deterioration (decomposition) occurring after death. It is advised for three main reasons: sanitation, preservation and restoration. Read more

Cremation
Including organization of all details. Read more
Burials
Including organization of all details. Read more
Caskets
We have a large selection. Read more
Urns
We have a large selection. Read more
Catering
We can arrange professional, tasty, well presented catering at the venue of your choice. Read more

Hearse
Available to transport the deceased from the funeral home to the funeral service and then on to either the crematorium or cemetery.

Flowers
We can arrange flowers as simple or as ornate as the family wishes, using our own florist, or the preferred florist of the family. Read more

Poems
We can provide a selection of readings and poems you may like to include in your funeral service. Read more

Death notices / newspaper obituaries
We can assist with the writing and placement of funeral notices in newspapers both nationally and internationally. Read more

Service sheets / order of service leaflets
Are an important memoir of the day and often assist in remembering the deceased in the "good times". We can assist in all aspects of production of these. Read more

Eco Funerals
We can assist with all details in providing an Eco choice funeral. Read more